From Milan to Rio, Tokyo to Turin, Barcelona to Madrid, Moscow to Old Trafford and Omagh
via the twin towers of Wembley, United's 'Big Lily', created and lovingly cared for by
Martin 'Faceman' Cleary and Keith Norris, has added colour and passion to every major United occasion since
her birth.
Revered amongst United's 670 million worldwide supporters, Big Lily has become an iconic symbol representing all things positive relating to Manchester United, friendship and passion through football.
It was created in 1999 by best friends Keith Norris and the late Martin 'Faceman' Cleary - two friends from opposite sides of the religious divide in Northern Ireland - to create harmony in their local Manchester United Supporters Club - and has been taken across the world including Australia, Brazil Japan and Germany.
In spite of coming from different religious backgrounds, the two creators were best friends and devoted Manchester United supporters. The name 'Lily' derives from the Easter lily and Orange lily which are symbolic of the Catholic and Protestant traditions in Ireland.
Ireland, North and South, is a hotbed for Manchester United with 45 official supporters' clubs. Irishmen Patrick O'Connell, Johnny Carey, Noel Cantwell and Roy Keane have captained the team. Club legends including George Best, Sammy McIlroy, Norman Whiteside, Denis Irwin, Tony Dunne and Liam Whelan all hail from the Emerald Isle.
John Peden was the first Irishman signed by Newton Heath, pre-curser of Manchester United, in 1893. 63 players have followed suit, crossing the Irish sea to wear the famous red shirt of Manchester United, the latest, current under 23 star, Ethan Galbraith
The flag was bridesmaid at Norris's wedding in Kyoto, appeared at two Champions League finals and the funerals of George Best in Belfast and that of well known United fan, Eric Barlass in Manchester.

In Trudering, 2019, Big Lily was carried in the silent procession to the Manchesterplatz memorial site dedicated to the memory of those who died in the Munich air crash in 1958.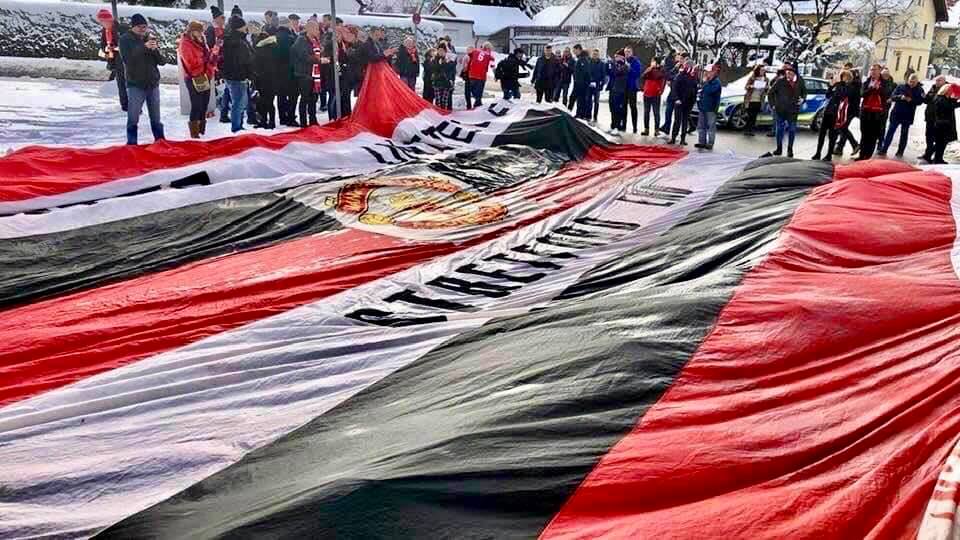 Malta Manchester United Supporters Club kindly invited Big Lily ( and several Wee Lily flags) as a guest at the their 60th Anniversary function attended by 100 international guests including many legends of our club.
During the pre season tour in Perth, Big Lily led the fans march to the Optus Stadium.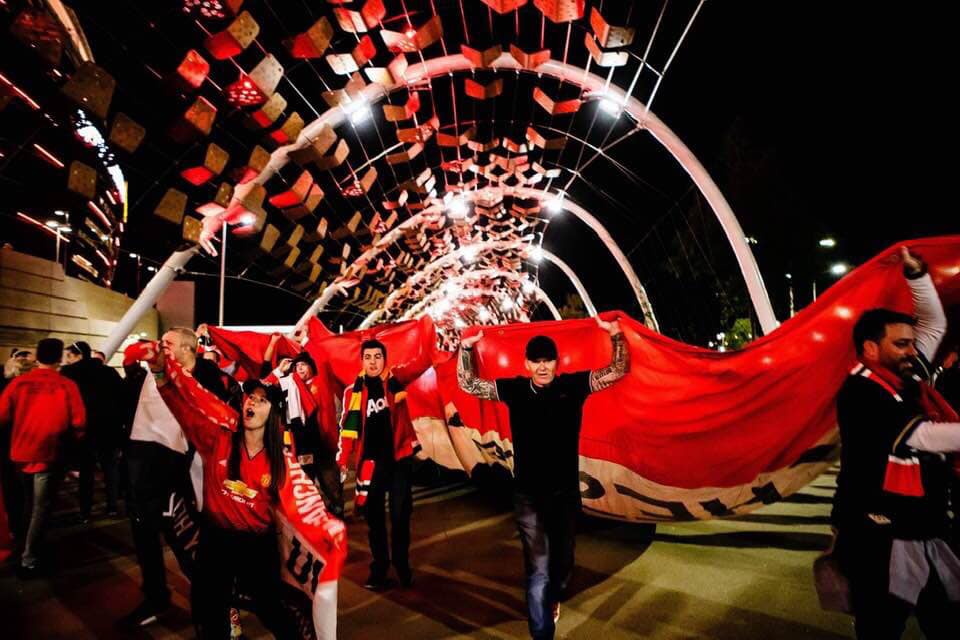 .